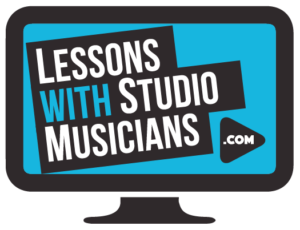 Lessons with Studio Musicians exists to provide students of any age instruction from the most active and in demand studio musicians in the world.
We provide tools to help students of all levels through on demand video courses, which are available via subscription plans or one-time purchase. 
Now, no matter where they live, students will be able to study with one of the best – no travel or passport required! Lessons with Studio Musicians was first conceptualized in 2020. Steve Patrick realized that musicians of all ages around the world were looking for ways to grow and improve their skills online. Lessons with Studio Musicians offers on-demand training from top studio players who excel and record in ALL genres, whether on movies, TV shows, video games, or albums.  There are many professional players who excel at only one specific genre, however, as music continues to diversify at all levels, lessons with studio musicians is simply the best way to be equipped to be able to play every musical style that you may encounter.  Lessons with Studio Musicians offers a wide range of instruction in musical genres and techniques, as well as insights into the music business industry. Learn more about our trumpet lessons. 
Steve is currently offering virtual lessons at special rates.
30 minutes – $50
45 minutes – $75
60 minutes – $100